Responsive Design Websites
R
esponsive website design is an approach to website design that modifies for a user's mobile and tablet devices. This approach makes use of flexible layouts, flexible images and cascading style sheet media queries.
What Does Google Think?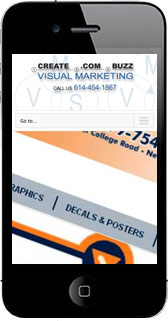 From what we've seen, Google is a few steps ahead. Google is serving up different results on searches originating from mobile devices. They're favoring websites optimized for mobile use when the search is done on a mobile device.
What is the Difference Between Mobile Website Design (Adaptive Web Design) and Responsive?
The difference between mobile website design and responsive design needs to be clearly understood because they're different things:
With a mobile website design, the website detects which device is being used and it serves up a webpage based on the device.
With responsive, the website adjusts to the screen size (of any device). A different website is not served up.
Therefore, responsive is more "future proof" as it adjusts to the screen size of any device. With mobile (adaptive), adjustments and maintenance might need to be done if new devices appear on the market.